Safety is a necessity in everyone's life. And it is at high risk while moving our belongings to another place. And if you are doing all the moving on your own, it will exhaust you so severely because moving includes packing, loading, shifting, uploading, etc. And all this work are exhausting and time-consuming.
And if you are moving on your own, you should need to get some basic knowledge on moving. And it is advisable not to get involved in a task for which you are not prepared because the slightest change or carelessness should get prove hazardous for you and your family.
So along with protecting your valuables, you first need to get yourself safe from any moving injury. So here are some safety measures that you should follow while moving, which include:
Don't Overpack
One thing that almost all people do is overpacking. They think that they can save a lot of pounds by overpacking, but it is not valid. Do not overpack boxes because you can.
Every moving box is designed in a manner to hold a certain amount of weight, and dis-balancing that amount may result in a severe injury. This can be proved very harmful for your safety.
As a general rule, packing directions state that the balance amount of pounds in a small box should be 50, a medium box should be 65, and a large box should be 70.
And exceeding this limit may cause severe injury, so stay safe and pack the given amount of material in a box.
Wrap Sharp Objects
While moving, always wrap sharp objects like knives and kitchen appliances. Not taking care of your sharp objects may lead to moving severe injuries. You can get sharp cuts in your body while packing these sharp objects.
And In the worst scenario, these sharp objects may also fall out or pock out of the moving boxes and can injure your kids or family members.
So always make sure to protect yourself and your family from these sharp objects by wrapping them carefully using wrapping papers or bubble wraps.
You can also roll them in a dishing towel after wrapping and secure them with bands. This will proffer you with an extra layer of protection during the move.
Dress Appropriately
While moving, you should dress appropriately. Make sure to wear comfortable clothes while moving. Wear less and comfy clothes in which you can breathe properly.
Be as comfortable as feasible during the move. Wear comfortable and flexible footwear. Avoid wearing heels during the activity. Avoid wearing accessories during the movement and get balanced with your wear.
Make A Plan
Making up a plan before doing any work will always work as a power booster for most people. Because a well-made program always works excellently while doing anything. But while you are moving on your own, you need to consider a lot of things and add them to your plan of work.
If you cannot handle all the hefty lifting of your furniture, consider moving less heavy items on your own and try to get the help of some professional house movers or your friends to lift your heavy furniture while moving. Avoid moving them on your own. Otherwise, you will end up breaking one of your bones.
Follow Proper Lifting Protocols
While lifting heavy furniture, you have to follow certain lifting fundamentals to ensure your safety and prevent yourself from any injury.
While lifting any object, keep your spine alignment as neutral as possible. Bend your knees in place of your waist while lifting some heavy things.
And while carrying heavy objects, put them close to your body to maintain balance and not twist your body while lifting. If you go through any twist or turn, go through your back first and then your knees.
Don't Lift Heavy Objects.
While moving, you should not have to move heavy objects that you will not be able to lift. Because this is a moving process and not a weight lifting competition.
While moving, if some things seem too heavy and weighted to be moved, then ask for help from professional movers or your firm friends instead of lifting them on your own. Because everyone has a limited capability, doing work within those limits is a great choice.
Make Exit Routes Safe
Exit paths are the main pathways for moving your belongings. So while moving, keeping all the exit paths safe and secure is an essential point to consider.
If you have any furniture put in the moving passage, remove all of it and clear a certain distance from which your heavy and oversized furniture can easily be moved out. It will make your moving easy and smooth and save you a lot of time.
You also need to measure the pathways and make sure that your oversized vehicle can pass through it or not because some materials need to be disassembled first and can only be moved afterwards.
Hire Professional Movers
The best way to minimise your moving risk is by hiring some professional movers. A professional moving company like Mover Who Cares will assist you with all the moving services from packing to unpacking throughout the move.
They have a team of experienced and expert movers who know how to move small to heavy items smoothly and quickly.
Hiring professional movers will also save you a lot of energy, time and cost. If you are moving anywhere in Perth, then you can hire us.
You can contact us through

mail at info@bestmoversperth.com.au

or call us on 1800-849-008.
So if you have any queries or doubts regarding your move or want to make your move easy and smooth, hire us and get a quote now.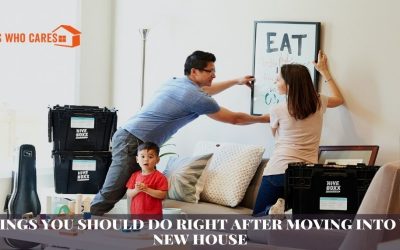 When you move to a new house, you need to consider many things on your doing list. But usually, what people think is that only the services included in the moving process are essential to believe, but it is not. After moving into our new house, we should consider many...
read more