Moving is a tough process, but when you are moving home with a pet, things are expected to get way more confusing and challenging. To complete the task in a hassle-free manner, it requires proper planning, a considerable amount of efforts and a little bit of patience. Movers who Cares in Perth provides the cheap moving house with pets service.

Moving house is often considered a stressful time by most people, and even more stressful when you have a pet. Not only you are dealing with the stress of having to organise your move and pack up all of your items, but you also have to consider the impact of a house move on your much-loved pet. Shuffling furniture and moving boxes during relocation creates unexpected changes to an animal's living environment – causing them more hassle and anxiety.

In case, you want to save you time or pay more attention to your pet, you should hire Movers who Cares' reliable house removalists in Perth. The professionals take care of the packing and loading of your possession. As a result, you can look after your furry friend and not remain preoccupied with your relocating responsibilities. Allow the professionals to handle all the hectic tasks so you can stay stress-free.
Tips to follow while moving house with pets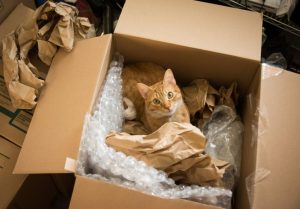 Our house is the centre point of our lives and our family's lives, but most especially – its the centre of your pet's whole life. They spend more time in our houses than we do.
So if you have to relocate your home, your pets will naturally become deeply affected, too. They will feel like being uprooted from the familiar environment in which they have spent most of their life. So, follow these tips for moving house with pets safely:
Update details

Call your vet and update your new address in their system, or you may be moving too far and require to register with a new vet. Also, remember to call the local council or wherever you register your cat or dog so that if they go missing, the council will know where you now live and can return your pet safely. If their collar has a tag with your address or phone number on it, be sure to get them a new one with your updated contact details.
Wait to wash their bedding

Moving to a new home can be a hectic experience for a pet, so having a sense of familiarity with their bedding is a way to help them settle in. If everything seems too new, including the smell of their bed, they can take longer to get comfortable in their new home.
Take them to the new home before moving day

If you have a dog, take them for a walk around their new neighbourhood some times before move-in day. This will help them get used to their new stomping ground, and become more familiar to their new environment. If you can, let them explore their new yard to become more familiar with their new home.
Arrange a pet-sitter for few days

Having someone else look after your pet will be a big help on moving day. Knowing your pet is being cared for will ease the anxiety of moving day and help you focus on the task at hand. Choose someone who your pet is already used to with, so they do not feel stressed being left with them for the day or overnight.
Pet roofs as much as you can beforehand

Before you welcome your pet into your new house, take all the essential steps to make your home pet friendly. If there is no cat door or you require a gate to keep the dog in, try have this organised before your pet comes home so they don't have to be trapped inside all day.
Take your pet outside for some exercise

Before you bring your pet back to their new home, take them for a big walk. This should reduce the amount of chaos that may ensue. Dogs love to travel to new places, and while it is acceptable for them to have a sniff around their new home. If the dog has a lot of built-up energy, they can end up doing laps around your house for hours on end. This can result in worn-out carpets and knock over valuables, so it's best to try to tire them out beforehand.
Keep your pet's vaccinations up to date

Ensure that they have up to date vaccinations before moving day, particularly if you are moving from an urban area to a rural area or vice versa. This will make sure that your pet remains healthy, as well as keeping other pets in the area healthy too. You can check with your pet's vet as to when your pet's vaccinations will finish.
Hire a professional moving company

Many house relocation companies, including Movers who Cares, offer a pet valet service alongside their house relocations offering. As well as helping in packing, unpacking and moving your belongings, we can take care of your pets so you don't have to lift a finger on relocation day. They make sure your pet is comfortable and secure, so you can focus on other relocation day related tasks. Movers who Cares can also help with interstate and international pet relocations.
Pack essential belongings of pets

The separate box should have things like a leash, poop bags, cat litter, blankets, pet food, water bowls etc. It should also have something to keep them settled like bones, favourite toys, treats, etc. Pack all these items in the last and unpack first after relocating to your new place. If you are using your vehicle to move, keep your pet and their items with you.
Keep your pets safe on moving day

When you are preparing to move, you get involved in various moving responsibilities. So, it can be very tough to focus on your pet's routine. However, professionals believe that you must pay attention to the needs of your pet. So, take your pets out for a walk like you normally do and feed them in their regular time. Whatever is the routine of your pets, make your best efforts to maintain that. Whether it is about playing with the kids during or taking an afternoon nap, allow your pet to do it. It will lower the stress to keep them healthy during the moving time.
Movers who Cares are your one-stop-shop for house relocations, and can also help with car transport, insurance as well as short and long term storage. As the leader's in Adelaide relocations for over 12 years, Movers who Cares are the removalists you can trust.
Things to remember during moving house with pets

Whether the move takes a few good hours or many days, it's essential to remember these tips while travelling to your new home with your pets:
Keep your pet feeling safe and calm by having all their 'comfort' things inside the secure room. Make sure that they have all of their favourite toys and bedding with them, as well as enough food and water. Some extra treats can be an excellent option for keeping him relaxed and calm on relocating day.

When people come into your pet's territory, your pet must know they are welcome into the home. Take some time to introduce your pets to the house removalists. If your pet becomes used to of the smell of workers, then the workers will easily do their task.
During your travel, ensure that your pet is properly secured in his designated seat.
Don't leave your pet unattended inside your parked car for too long. Remember, the temperature in a parked car can rise easily.
Just like the rest of the family member, make sure your pet gets his regular water and toilet breaks, too.
Conclusion:

If you're worried about making the move with pets, there are our professional movers that can help you with moving services. They can help you with everything by making sure that how you follow all the pet import rules of your destination to arranging your pet's travel itself. They also offer much-needed assistance from the initial discussion to the final delivery.
It's great that you read our complete guide on making your pets comfortable after moving houses. Now we know that you genuinely care for your pets, and their happiness matters to you. Follow several tips to help your pets adjust after moving houses.

We have helped hundreds of pet owners move their furniture and other items to their new place with minimal fuss – and we can do the same for you. At Movers who Cares, we offer a  wide range of quality moving services to suit your specific requirements including furniture and pre-packing service, temporary storage solutions and interstate backloading. Moving house with a pet is easy with help from Movers who Cares.
Want to Know more then call us on 1800-849-008,

Or you can mail us on info@bestmoversperth.com.au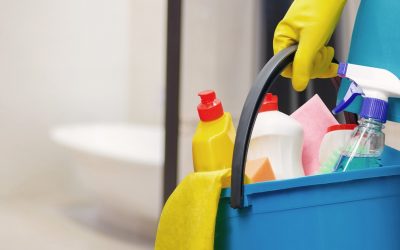 Deep cleaning can be a time consuming and hectic procedure. Some homeowners and renters see hiring a professional cleaner as a needless expense. With the best intentions, they think, "I can manage my own". But life tends to get in the way of regular cleaning. The...