Deep cleaning can be a time consuming and hectic procedure. Some homeowners and renters see hiring a professional cleaner as a needless expense. With the best intentions, they think, "I can manage my own". But life tends to get in the way of regular cleaning. The costs of not cleaning your home regularly can add up to increased stress, a lesser healthy living environment and even financial strain as things like furniture, rugs and floors require to be repaired or replaced more often. To overcome your stress, Movers who Cares provides professional house cleaning service in Perth at a reasonable rate.
Adding a professional office cleaning service in Perth to your weekly or monthly business plan can bring a lot of advantages to the workplace. Cleaning can also be an excellent investment in your employee health and satisfaction, as well as your bottom line. It's no secret that regular cleaning is important for the long-term health of your house and office both. But sometimes it's hard to do it on your own, therefore consider the help of professional cleaners. Here are some scenarios that can help you decide whether it's time to hire a professional cleaning service for routine cleaning of your house or office. Movers who Cares' professional cleaning is more affordable than you think. Mover who Cares provides the cheap house and office cleaning services in Perth.
When to hire a professional house cleaning services in Perth? 
Not enough time to Clean
Time is probably the number-one reason to hire professional house cleaners. Full-time jobs, raising a family, and busy social schedule all these need a lot of time. At the end of the day, you may be too exhausted to clean and weekends seem to fly by before you get a chance to pick up a mop. If you find that you want to clean your house but always feel guilty about not having the time and energy to do it, then it's time to hire some professional cleaning service help.
Its been a long time between cleanings
If you haven't deep cleaned your home in a while (weeks or even months), and haven't been able to do basic cleaning maintenance regularly, it can be a challenging prospect to get started. But dirt, dust, pet fur and everything else don't stop gathering and can cause problems for your home and belongings over time.
The solution is simple though! Our house cleaning service in Perth offer deep cleaning services to help you get back on track. Our professional cleaners know how to do a deep clean on your home that will have it looking like new.
You are hosting a special event
A clean house is a great way to impress relatives coming to visit or the guests of a holiday party you are throwing. Hiring our professional house cleaners in Perth can give you an added boost of confidence that will help make your special event a success.
Special Circumstances
Some cleaning jobs are too big or complicated to handle it on your own. Post-construction cleaning after a new addition to your home is a good example of special circumstances where a professional house cleaner is a great idea. Professional cleaners have a specialized kind of knowledge of cleaning situations like this. Save your time, energy and leave complex or difficult cleaning tasks to our professional's house cleaners Perth.
Cost-effective
Cleaning appliances and professional quality cleaning chemicals are very expensive. If you want to deep clean your property then you require to purchase all these products, which can burn a hole in your pocket. However, you can easily avoid that cost by choosing a professional cleaning service. The professional cleaning service providers have the proper set of tools and chemicals which will clean your property at a fraction of the cost of that equipment. And you also require to admit the fact that, you are not going to use those appliances or those chemicals for everyday cleaning.
8 Benefits of Hiring Office cleaning services in Perth
Here are 8 professional office cleaning services benefits to consider when hiring office cleaners in Perth.
Fewer Sick days
Losing valuable working hours due to sickness can cause problems for your business functions from sales to production to delivery. This is especially true at businesses with many employees where germs and viruses can spread easily.
Adding a trustworthy and professional office cleaning service to your business can help reduce the presence and spread of illness. Cleaner surfaces and air keep your employees at work without any risk of exposing themselves or others to germs and bacteria.
A safer and healthier workplace
As mentioned, a professional cleaning service can help to cut down on the presence of diseases in your office. But quality office cleaning services can also make your workspace a safer place. Whether it's from the use of environmental-friendly cleaning products or the removal of allergens in the air, after you hire professional office cleaners in Perth, office health will improve.
Then there is also the safety benefits of office cleaning. Clean floors and tidier space mean lesser examples of falls and slips.
Increased employee productivity
When employees are healthier and safer, they do better and more work. This seems simple, but it's an important benefit for business owners and managers to consider when thinking about hiring a professional cleaning service in Perth. Without having to worry about all the problems that come from a dirty and unclean environment, your employees can focus on the task at hand.
Great first Impression
If you daily bring clients into your office, then you know how important it is to make a great first impression. A clean and organized office is critical here. When you hire a professional cleaner in Perth, you'll see advantages that range from better customer perception of your company to a more professional appearance when showing new hires around the space.
Movers who Cares professional office cleaners in Perth will make sure that the air smells fresh, all trash bins are clean, dust and debris are removed, and hallways and walls shine and sparkle.
Improved morale and enthusiasm
It's no secret that being proud of where you work can have a great effect on morale and enthusiasm. Employees that come to work regularly feeling good about their environment will generally be more enthusiastic than if they worked in a dirty office. This has many tangible and intangible advantages. Happier employees and impressed customers talk more highly about your company. And can lead to many new opportunities from people who become interested in your business because of the good reviews.
Long-term cost savings
Our professional cleaning service is thorough, you'll reap the cleaning benefits of longer-lasting furniture, floors, carpets, and equipment. You'll require to repair or replace these items less often. Which, in the case of something like carpeting, can save your thousands of dollars (or more) over the years.
And, because a professional office cleaning service is more affordable than you might think, professional cleaning service should be looked at as an investment in your business.
Higher quality Cleaning
Smaller companies may depend on employees and staff to do the daily cleaning. And may have a professional visit only once in a while. As your employees have many other jobs to do, they may not do as good a cleaning job as you would like. This adds up over time and can lead to a dirty and unhealthy environment.
Hiring a professional office cleaning service in Perth for routine maintenance and the occasional deep clean will deliver higher quality cleaning and all the benefits it brings.
More Space
Cleaner offices tend to look bigger and roomier. Also, unclean areas may highlight other problems such as clutter, which will be more likely to be taken care of. Regular cleaning service also helps you think about what items you really require in your office. And which items are, well, just gathering dust. Before you know it, you'll have more space. Maybe enough to bring on a new hire or two and grow your business.
Want to Know more then call us on 1800-849-008,

Or you can mail us on info@bestmoversperth.com.au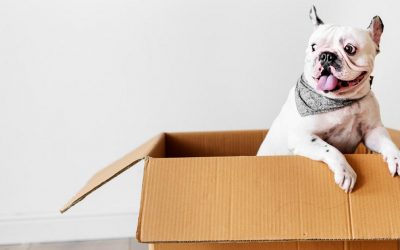 Moving is a tough process, but when you are moving home with a pet, things are expected to get way more confusing and challenging. To complete the task in a hassle-free manner, it requires proper planning, a considerable amount of efforts and a little bit of patience....